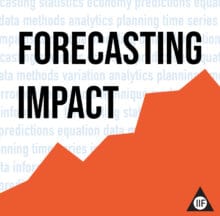 Forecasting Impact is a new initiative sponsored by the International Institute of Forecasters. The podcast aims to disseminate the science and practice of forecasting, grow the forecasting community, and foster collaboration between academia and industry.
Forecasting Impact will bring prominent academics and practitioners in various forecasting fields to discuss a wide range of topics including economics, supply chain, energy, AI, data analytics, healthcare, social goods, and more.
Listen to our podcast – The first guest is the well-known forecaster Rob Hyndman, Professor of Statistics and Head of the Department of Econometrics & Business Statistics at Monash University, Australia. In this episode, we talk about his career, projects, challenges, a history behind his R packages, and some consultancy work tips.
The monthly podcast is created by Mahdi Abolghasemi, Shari De Baets, Michał Chojnowski, Anna Sroginis, and Sarah Van der Auweraer.